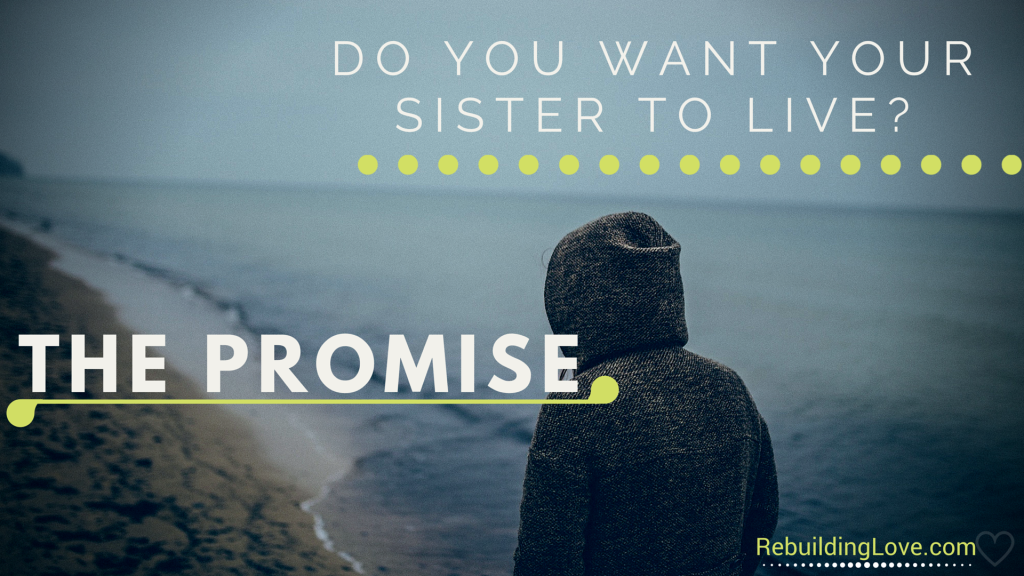 THE PROMISE   by Deborah Lynn Thelen
I made a promise to our dying mother that I would watch over my little sister. Not too long after Mom died the family watched Sharon fall to her lowest of lows and no one knew what to do for her. We were all yelling out… "Go Get Help!"  We all were saying we just wanted her to go away…
In prayer I thought of asking God to take her so she didn't have to suffer anymore instead I prayed for His guidance to help us find her help.  I was tired of being mad at her.  I was tired of hearing all the bad things she was doing.  She was screaming for help by threats to take her own life and totally spinning out of control. Our entire family was broken and I couldn't stand by to watch this anymore. It was time and I was bound to my promise.  I wanted my little sister back.I was not going to stop until I got her in a place where she was safe and she could find herself again.  
Sharon was taking a lot of drugs, drinking and nothing was making her feel good.  I saw her family in denial of her behavior as they were scared too.I grew up with her so I knew things had gotten so bad she needed professional help.  My biggest challenge was getting her to admit she needed the help and finding the best place to take her. I made a lot of calls to inquire how to get her into a drug rehab program.  I got her doctor involved and accepted his advice. We finally found the perfect place to take her and called on a Tuesday afternoon.  I told the man I just wanted to get some information and he said,"You have to be strong and do what's best for her.  Do you want your sister to live?"I said, "Yes, I do!"
 He told me not to hesitate one more day and take her immediately to the ER and get her through detox then he would work out the details of her insurance. He sounded so sure he could get her into a 30 day program.  All I had to do was take her to a hospital and they would do the rest?  Sure, I can do that, I kept telling myself.  The man on the phone convinced me I could do this but I needed to have a plan of action.  He gave me hope.
I felt at peace with the plan because everything was finally falling into place. I called Sharon to tell her I was taking her away to get help but she was too sick to understand what I was saying.  She just wanted to "stay high". She begged me to give her 3 days to prepare.  I gave her 3 days. She called to ask for more time but I stood by the date.  Nothing was going to change my mind.  I had everything set up as planned.  I met with the family to tell them what we had to do. Just wasn't sure anyone had the same encouragement to seeing her improve.  We all were hurting.  Time will heal us.  We must believe God has a plan and he'll help us all in time. I prayed so hard for the strength and courage to get my sister the help she needed and had more faith in God to see this through.  If not for Him, I would have given up too.
All I knew was Sharon was going to die if someone didn't help her. I couldn't live with that and prayed she could make it 3 more days…
That day came…This is an entry into my personal journal Saturday, June 30th, 2007
I woke early, feeling numb.  I lay in bed praying God be with us today.  We really needed our Mom. Maybe she is with us in spirit.   She would be so proud of Sharon taking this huge step because Mom had tried to get her help so many times. Sharon knew how to control people and convince them she was okay. We all fell for it. I finally saw through those games and just how sick she really was. Taking Sharon to a psych ward seemed unrealistic to me.  It was one place she never wanted to go back to nor did I want to place her there but it was the only way to get her on the right path.  It would only be three days then off she would go for her treatment in a rehab facility.  This has to work.

I must be strong when I often feel so weak compared to my sister.  Her faith in God and His word, her insight is amazing and powerful.  Ironically, she can help so many others but not help herself.  Well, today all that will change.  I had the positive feeling that God had many plans for Sharon. WATCH OUT WORLD!!  Sharon Ann is going to move mountains.  She will one day have her own ministry.  She didn't suffer all these 43 years for nothing.  This is all part of the plan.  I have to stay this positive for her. Called Sharon, she hadn't slept in two days. She was feeling a lot of anxiety as to be expected.  I assured her we would have a good day together and I was on my way.   Pulled up in her driveway, she was standing with suitcase and seemed anxious to leave.

Driving away, we didn't look back. We went to a nice place to eat lunch.  We laughed, and enjoyed our last Margarita together. It seemed as if time stood still for us to just be sisters. It was a beautiful warm sunny day so I took my time driving.  This was harder on me than I thought and kept assuring myself we were doing the best thing.  We pulled into the Hospital parking lot around 4pm. She wasn't quite ready to walk in.  It was important that she walk in on her own will. We sat in the car, she popped her pain pills and we smoked one cigarette after another.  She desperately wanted that high and yet she wanted it to stop. 

She made calls to her children and family to let them know she was ready to get help.  Then at 9:50 pm she walked through the hospital door on her own.  The process went quickly.  She poured her little heart out to anyone who would listen. She wanted to be taken care of and desperately wanted to rest. 

We let her sleep as I looked up to read a verse on the wall which read, "I Have Done What Was Mine To Do, May God Show You Yours."  Wow, that surely gave me assurance that we did the right thing.  It is going to be a long journey for my sister but she's on the right path now.  I have to believe she is going to get well. 
---
Do You Want Your Sister To Live?