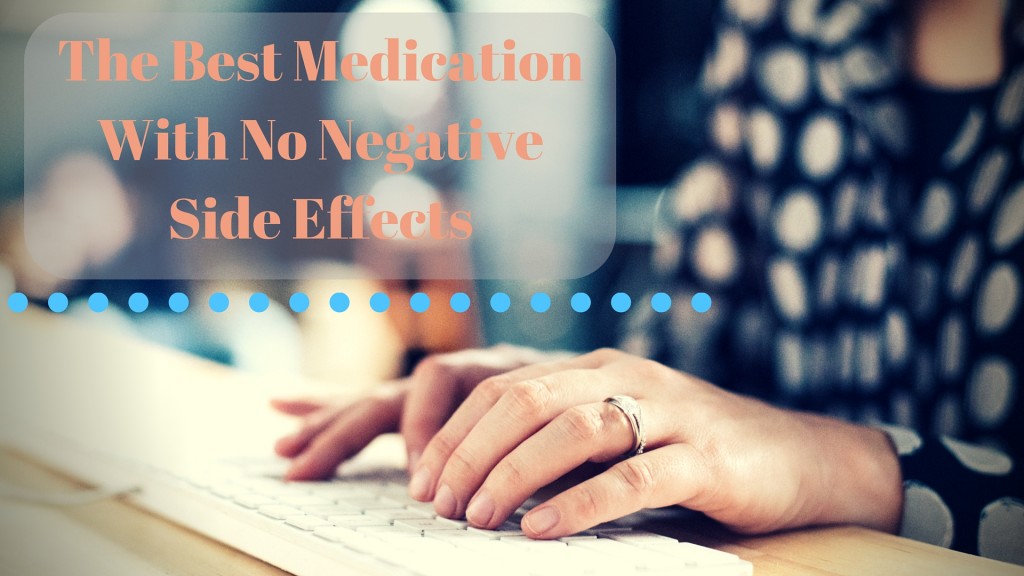 The Best Medication With No Side Effects
by: Debbie Thelen
It's been 7 months since I survived a ruptured brain aneurysm…I was asked to share the experience so that maybe someone who's suffering as I did can get help with medication dependency and depression.
Prior to my trauma, I had been having a lot of migraines.  The aneurysm burst occurred without warning and I wouldn't be here writing if my husband hadn't been there for me. 
I told him I had a bad headache, vomited then I passed out in his arms.
He was on phone with 911 and thankfully our local EMS and hospital flew me to the Trauma center downtown immediately.  The doctors and surgeons said it was a miracle I lived. Thank God those people saved my life!  This has been a life changing experience and I am so blessed to be here to share it, although it hasn't been easy.  I can honestly say I could not have made it this far without the love, support and prayers of my family and friends and most of all having my faith in God.
I don't remember a thing about any of it other than what I was told by family most likely due to all the medication I was on.  Thankfully, I don't recall too much because I suffer from the anxiety of this occurring again only this time I may not survive.
After spending two weeks in ICU then released with a pile of papers no one really explained what happened or what to do or to expect when I got home. There were several prescription bottles on the night stand waiting for me. I had to continue taking all of them for a few weeks while recovering from home. The worst was the Oxy pain meds. They made me feel ill and I didn't want to be addicted to them.  I got off them as soon as possible. For the next two weeks I had the worst pains throughout my body and when it radiated to my legs I begged my husband to take me to the ER. 
We had no idea why I hurt so much? In talking to others who had recent surgeries I was going through opiate withdraw. NO NURSE OR DOCTOR shared this information.  If you can get through a few days without taking the pill you'll be okay, but there will be days of feeling like you are going to die! I won't lie to you the pain was horrific.
It takes having a lot of will power, faith and support from someone who will be there for you as my husband was for me.  I could not have done this alone…
The body is screaming for the pill and you know in your mind you'll feel better if you take it…but then a few hours later that pain comes in worse than before and you repeat this process over.  I needed to be strong and find another way to deal getting out of pain. I prayed so much for God to help me get through the agony.  It was a horrible experience and it made me understand what my sister went through with her addiction to the meds.  If you continue taking the pain pill IT WILL HELP with pain briefly then it only gets worse.  The ER gave me a RX for muscle relaxers which made me sleep all day. When I slept I wasn't hurting.  A few days of detoxification  I started to feel better physically.
Another month of recovery and I was down to taking one pill called Keppra. 
All I knew is it was to prevent me from having seizures.  When experiencing life threatening trauma as I did I felt I had to listen to the doctor's and stay on the pill but other than that I didn't even know what I was taking twice a day. As days went on I lacked motivation.  Nothing brought me joy… Absolutely nothing! 
No desire to do anything I had been doing prior to all this.  All I really wanted to do was sleep, hide from the world and cry.  I started to hate my life and felt God was punishing for me for my sins.  It was difficult to admit but I didn't want to go on living this way.
I thought why would God spare my life only to live in such agony?  I wasn't myself and I had to pull myself away from the negativity or give up and I wasn't ready to give up yet…
Prayer was what gave me the motivation to look on the internet and research the drug I was taking. I spent hours reading what Keppra and what other medications were doing to people. 
Later that day I contacted my doctor.  I begged to be taken off the medication.  Willing to wean me down but warned me of the dangers of going off medications.  Yes, even that can be just as dangerous as taking them.  I was very scared to say the least. 
A few days of weaning worsened my condition.  I suffered painful headaches, fits of rage, and no desire to do anything.   Perhaps I wasn't ready?   Time to get on my knees and beg for God to hear the cries. Feeling so alone and scared, it was if someone inside me was screaming for help but no one could hear the screaming. I felt no one cared and I was losing hope.
For the first time in my life I was experiencing what my little sister had gone through. No one knew what to do for her back then but put her on more medication.
I certainly didn't want my doctors to know or they would have put me on  medication to cover up what I felt.  I remember screaming out, GOD PLEASE HELP ME, YOU ARE STRONGER THAN ANY DRUG!! I NEED YOU TO HELP ME NOW!!!! I tell you the Lord is amazing!  Later that day I got a call from someone who was taking the same drug for his seizures.  He told me what I needed to hear.  He said, "If you want to live you will have to stay on this drug but find the right dosage that you can tolerate. And please try to be the best person you can be and God will be there for you!" Wow, that was powerful advice!  It was as if God was speaking through him. How comforting to me to get an answer so soon. I assure you if you desire God's help He will help.  I've been witness to that so many times . It isn't always easy or on our timing but trust in Him and He will grant you the wisdom and give you guidance. 
I let some family members know of my condition so they too would pray for me. Then over the course of a few weeks I started to have a brighter outlook. 
It took a lot of work on my part.  Every morning upon waking I thanked God for another day.  Then I asked Him to guide me on what to accomplish so that it was pleasing to Him .I needed a purpose and a lot of desire to do more for others. It wasn't always about me.
It wanted to reach out to others in need as I had friends who were going through their own challenges. We all need each other to get through life. I didn't see it before,
God showed me that was what I needed to do for Him. 
The best thing to happen recently, my nephew Chris started the website Rebuildinglove.com and I was invited to open up my own door to share a passion I have for writing.  I had been praying for a purpose since I'm not able to work right now.  I believe God wants me to share these life experiences to help others.  The opportunity to do so has truly been the best medication and there are no negative side effects!  
The Best Medication With No Negative Side Effects