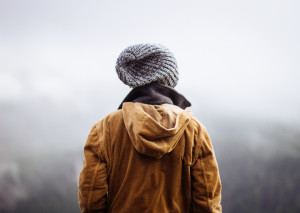 My first memories are of pure happiness. I had my family, my pets, and my toys. What more could I possibly need? Everything was PERFECT; or so it seemed. At 8 years old, my family (mother, father, sister) and I, moved from Georgia back to PA, living with my grandmother.  A fresh start, a new journey, endless possibilities. Within a few short months, my parents separated. The whole dynamic was shifting. My view of a pure and flawless world was compromised. Both parents did their best to spoil my sister and I, sheltering us from the damaged world of a broken family. I spent weekends with my father, who moved around quite frequently.  Life seemed fine, still. Then after about 2 years, my father died suddenly. Late stage cancer, diagnosed too late to make a difference. Or so we were told.
The following years became a blur, and although I've shared this story countless times, the exact chronology of it never seems to be 100% accurate. Shortly after my fathers passing, I began to experiment with drinking and smoking cigarettes and pot. My mother began to open up to us about both her and my fathers past. Explaining his ongoing battle with drug addiction and alcoholism. That's where he was on those "month long business trips". Rehab. The perfect image of my confident, successful father, shattered in an instant. Yet I still held on to what I remembered.
After about 2 years, my mother began dating an African-American man, Michael. Nothing against that, just providing the details. We moved into a house together, my mother, sister, Michael and I. My sister claimed to have witnessed him abusing her, so she moved back to grandma's. I had to stay. I had to protect her. That was my DUTY. A 12 year old man-of-the-house. Make's a lot of sense, right? The ensuing 4 years was full of the progression of my drug addiction and anger issues. I spent as little time at home as possible an entirely way too much time running the streets, typically not in the best neighborhoods. Having no father figure in my life, I aspired to be like the older guys in the areas I hung out in. Fast money, fast women, fast life. Death or jail by 18 would be the ultimate success. Skewed thinking had become my way of life.
Over those 4 years, I had seem gruesome scenes of violence and overdose. I had added multiple drugs (from xanax to percocet to cocaine) to my daily arsenal, and had begun dealing drugs. I had caught my mom also using drugs, which had widened the gap in our already distant relationship. I had nobody positive in my life, so I turned even more so to the streets. I accumulated an extensive rap sheet, with dozens of charges, mostly including possession of drugs, selling drugs, and committing robberies. At almost 17, I was caught with about an ounce of cocaine and threatened to 10 years in state prison.
At that time, I didn't recognize it for what it was, but God had a different plan. I spent most of my life in and out of church, but never fully believed. I went to appease those in my family and community. However, God never turned his back on me, and instead of allowing me to rot in a cell, I was placed into a Juvenile Secured facility that focused on the rehabilitation of drug users and drug dealers. I spent nearly a year there, and was introduced to a 12-step program. I was roughly 8 hours away from home and was only able to see my family twice while there. Plenty of time for introspection and learning. I went to a church service every Sunday, sometimes just to get away from it all for an hour, but other times to seek the Word of God. I was discharged in December of 2008, right before Christmas. I stayed clean for about another year, and then relapsed. Back to selling drugs, back to using a wide gamut of drugs, and back to living the fast life. Away from God.
I turned to heroin, cocaine, ecstasy, LSD, and whatever else I could get my hands on just to take me away from the torment of my own mind. This only led me to more legal consequences and more rehabs. After obtaining a little bit more clean time, I discovered that I was lied to my whole life. My father had committed suicide, due to his own heroin addiction and severe depression. Although I did not go back to drugs immediately, I eventually did, and spiraled even faster. I tried different combinations of "softer" drugs to try to maintain appearances on the outside, but no matter what I used, no matter where I turned, at the end of each night I was left with my own self loathing, wishing I would just die. Mentally, emotionally, and spiritually bankrupt, I felt as if there was nothing left for me. I wanted to die, but I refused to take my own life. I would not be as weak as the man I had once wanted to be just like.
Having had years of experience within the rooms of AA and NA, I knew what the answer had to be, but I could not seem to stop for any prolonged period of time. In October of 2014 I had just over 30 days clean when I learned that my best friend had died at age 23 of a heroin overdose. I tried to remain strong, but eventually returned to drinking myself to black out each night, and combining the alcohol with pills and marijuana. Self loathing returned. The hopes to not wake up in the morning were back. My spiritual void was wider than ever. I returned to NA meetings, too proud to admit where I had gone mentally, but too scared to remain alone any longer. I began asking for help, and on April 28, 2015, with my spirit totally broken, my emotions tattered, and my mind frayed, I had a moment of clarity. This was not the life I was intended to live, merely existing in constant limbo. I was going to get clean. I was going to stay clean, and I was going to build a life worth living. In that moment, I did not recognize the depth of my devotion, nor how committed I would become to myself, my family, and my recovery, but surely I knew that I would do EVERYTHING it took to make my life better. And that is exactly what has happened over the past 7 months.
I attended meetings on a regular basis. I asked questions. I shared about where I was at with complete honesty. I worked diligently at changing every negative characteristic of myself. At about 4 months clean, I began going to church, as I had recognized my need for reliance on God. Initially I was skeptical, uncertain of if this was where I belonged. I didn't know much about the bible, or any of the prayers, or the songs, or even the others in my congregation. But I continued to go. I began going to a 10-week Wednesday night bible study for agnostics to express my hesitancy and uncertainty about certain things. Halfway through this course was when my spirit became awakened. I felt the presence of God working in me. I became entirely trusting of his grace and mercy. I felt reborn.
Today, I pray constantly. I am always talking to God. I have forgiven myself, and forgiven all who I've felt wronged me. I work a great full-time job. My mother and I have become best friends, and often attend church together. I am extremely involved in many other recovering addicts lives, and commit myself to helping anybody that struggles along the path of addiction. My life is still simple, and there is nothing grandiose about it, but I truly feel satisfied. Materially and monetarily, my life has not changed too drastically, but spiritually I am the richest man on the planet. God has truly turned my life around, and the faith that I have gained through this process is amazing. One day at a time, I am working my way closer to God, and farther away from the evil of my past. Life is good. God is great! – Mitch
Isaiah 40:31
But they that wait upon the LORD shall renew their strength; they shall mount up with wings as eagles; they shall run, and not be weary; and they shall walk, and not faint.
Farther away from the evil of my past