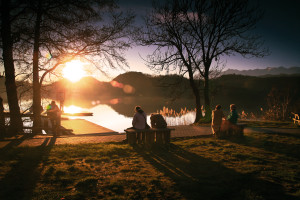 A different kind of counseling is called for when communicating with someone who cares for a loved one with mental illness. This is due to the fact that mental illness prohibits those affected by it from perceiving life in the same way as those whose minds are healthy. Depending on the illness, it may be difficult for a mentally ill person to distinguish between reality and non-reality. They are not always able to perceive what is actually happening and what is just going on in their minds. Their brains have difficulty sorting through feelings or changing their behaviors on their own. The people who care for them cannot treat them the same way they would treat someone without a mental illness. They can no more tell their loved one to change their thinking than we could tell a person with paralyzed legs to get up and walk. No matter how much they may hate the side effects of the medication their loved one is taking, abruptly stopping an anti-psychotic drug can be devastating. As counselors, we need to respect both the person who has the illness and the caregiver. We should be encouragers as they seek to understand the road they are called to travel. The family should be reminded that they must care for themselves. A person's relationship with our Father is their source of strength. A counselor can walk with them spiritually and be a conduit of Jesus' love. This is the most important ministry we can have to people dealing with these issues. Isaiah 26:3- 4 says, "You will keep him in perfect peace, whose mind is stayed on You, because he trusts in You. Trust in the Lord forever, for in Yah, the Lord is everlasting strength."
Consider sharing the following encouraging verses:
1 Peter 4:12-13 "Dear friends, don't be surprised at the fiery trials you are going through, as if something strange were happening to you. Instead, be very glad-for these trials make you partners with Christ in His suffering, so that you will have the wonderful joy of seeing His glory when it is revealed to all the world."
James 1:2-3 "My brethren, count it all joy when you fall into various trials, knowing that the testing of your faith produces patience."
2 Corinthians 12:7-9 "And lest I should be exalted above measure by the abundance of the revelations, a thorn in the flesh was given to me, a messenger of Satan to buffet me, lest I be exalted above measure. Concerning this thing I pleaded with the Lord three times that it might depart from me. And He said to me, 'My grace is sufficient for you for My strength is made perfect in weakness.' Therefore most gladly I will rather boast in my infirmities, that the power of Christ may rest upon me."
These biblical verses inform us that the godly will suffer. Why then do some Christians act as though suffering signifies a lack of faith or something that needs to be "fixed"? We are surely called to minister to the suffering. Jesus said in Matthew 25:40, "Inasmuch as you have done it to the least of these my brethren, you have done it to Me." In fact, He spoke against the shepherds of the people in Ezekiel 34:4. "The weak you have not strengthened, nor have you healed those who were sick, nor bound up the broken, nor brought back what was driven away, nor sought what was lost."
So the focus in counseling people who are silently dealing with the loneliness and stress of living with and caring for a loved one who has a mental illness should be to support and strengthen their faith in the One who truly understands their struggles, Jesus Christ, our help in ages past, our hope for years to come. These people must be equipped. They must be refreshed. They must be encouraged. They should be provided with a safe place where they can stop hiding their fears and where they don't have to feel ashamed.
A Different Kind of Counseling